In Touch - Jan. 2-3, 2010

January 2-3
A Lifetime of Second Chances
Romans 5
Paul used a beautiful phrase to describe the believer's position in Christ: "We have obtained our introduction by faith into this grace in which we stand . . . " (Rom. 5:2, emphasis added). This is no puddle of mercy that barely wets the toes, but rather a mighty ocean. The Lord's kindness wraps around us without regard for our worth or merit.
God's grace is an essential concept for believers to understand. He freely offers His favor to mankind because Jesus' sacrifice on the cross purchased forgiveness and salvation for anyone who believes. However, many people think they are enjoying God's kindness when what they are really trying to do is earn it. If we have to purchase, merit, or work for grace, then it is not a gift. The Lord is very clear that works cannot save us—in fact, He compares our good deeds to filthy rags (Eph. 2:8-9; Isa. 64:6).
On the other hand, grace is not a license to sin or to be lazy; Christians are called upon to serve the Lord every day. From the outside, it is usually impossible to distinguish between works and service in someone else's life. But God knows the heart's motivation. He accepts for His glory those things we do to show Him our love and to express appreciation for His countless blessings.
Dear Friend, serving God in order to earn His favor or to ensure that He continues to bless you amounts to thwarting grace. You can do nothing to deserve the Lord's kindness! He pours it upon believers freely so that each one is standing in a full measure of grace. 
For more biblical teaching and resources from Dr. Charles Stanley, please visit www.intouch.org.
Click here to watch Dr. Charles Stanley & In Touch Ministries Video Online
and
click here to listen to Dr. Stanley at OnePlace.com.
FEATURED RESOURCE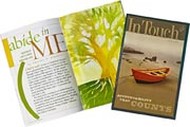 In Touch Magazine
Stories that Inspire, Teaching that Renews
If you like Dr. Charles Stanley's radio program, TV broadcast and books, then you'll love his free, award-winning monthly magazine. It's full of informative resources that will touch your heart and invigorate your faith. Every month, In Touch magazine brings readers daily devotionals from Dr. Stanley, in-depth Bible studies, inspiring articles and insightful teaching to help strengthen your family and your relationship with God. Click below to start your free subscription to In Touch magazine. 

Used with permission from In Touch Ministries, Inc. © 2009 All Rights Reserved.