In Touch Daily Devotional 
by Dr. Charles Stanley
---
January 21, 2007
Intimacy With God
Transparency is an oft-overlooked element in our growing closer to Jesus Christ. Intimacy with the Lord requires our full, humble, and honest openness before Him.
    
Jesus Himself was a wonderful model of openness as He dealt with His disciples. For instance, we read in today's Bible verse that, in the Garden of Gethsemane, Jesus shared with the disciples His anguish over His upcoming crucifixion and brief separation from God the Father.
    
Knowing that the sins of the entire world were about to be cast upon Him, Jesus grieved, even to point of near death. Here was God, clothed in human flesh, being completely honest, open, and forthright about His emotions. This is how Christ would have us react to Him.
    
A proud, arrogant, egotistical, self-sufficient Christianity bristles at the thought of such transparency. Why should I burden God with this when I can handle it myself? I'm just not going to deal with God about this. Such thinking and behavior goes against everything for which God created us.
    
However, God cherishes and honors a humble, contrite spirit from someone trying to be himself or herself before the Lord. Confess sin, worry, doubt, and fear. He already knows all, but your willingness to intimately share with Him all the details speaks volumes about the bent of your heart.
FEATURED RESOURCE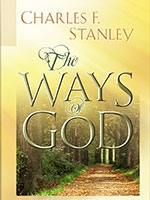 The Ways of God
from Dr. Charles Stanley
God's ways are always perfect, and following them leads to fulfillment and success. One of life's undeniable truths is that your choices will ultimately determine your future. While you can decide for yourself what career field to enter or who to marry, nothing compares with seeking God first and relying on the wonderful principles of His Word. In this series, Dr. Stanley teaches that as you serve God and seek His ways, you'll be blessed with peace, wisdom, and guidance for the journey ahead. Order here  now!
To see more resources from In Touch Ministries, please visit us at www.intouch.org  or go directly to our bookstore at In Touch Ministries.