In Touch Daily Devotional 
by Dr. Charles Stanley
---
January 23, 2007
Refusing to Wait on God
Refusing to wait on God is costly.  When we run ahead of God or lag behind Him, we move outside of the Lord's will. Choosing to do the right thing at the wrong time makes us vulnerable to Satan's schemes and delays or derails God's blessings. Our independent actions might also bring confusion to us and others, as situations may turn out differently than we expected.
We also cause ourselves unnecessary grief. For example, if we use credit cards to purchase electronic gadgets, unneeded clothes, and other indulgences, debt will pile up beyond our ability to pay. Then our credit rating will plummet, with little financial relief in sight. But when we manage money in accordance with biblical principles, our lifestyle will be less lavish. But we will have peace of mind and the ability to borrow if necessary.
Another example is quitting a job out of frustration before God has released us from it. We might subsequently discover that, had we held on a while longer, we would have received another more satisfying position.
Certain character qualities are necessary if we are to develop a lifestyle of waiting on God. We need patience to endure our present situation, persistence to complete our current responsibilities, and courage to trust God and await His solution in the midst of discomfort. 
FEATURED RESOURCE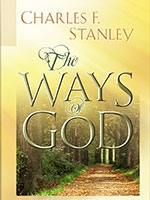 The Ways of God
from Dr. Charles Stanley
God's ways are always perfect, and following them leads to fulfillment and success. One of life's undeniable truths is that your choices will ultimately determine your future. While you can decide for yourself what career field to enter or who to marry, nothing compares with seeking God first and relying on the wonderful principles of His Word. In this series, Dr. Stanley teaches that as you serve God and seek His ways, you'll be blessed with peace, wisdom, and guidance for the journey ahead. Order here  now!
To see more resources from In Touch Ministries, please visit us at www.intouch.org  or go directly to our bookstore at In Touch Ministries.