In Touch Daily Devotional 
by Dr. Charles Stanley
---
January 28, 2007
A Life-Changing Prayer
The most powerful act anyone can perform is to pray for someone. Of course, the power is not in the praying, but in the release God gives in His perfect answer to our prayers. Paul provides an example of one of the most effective prayers we could utter. He prays that the Colossian church:
• May be filled with the knowledge of God's will. What a wonderful gesture to ask God to make clear for family members or friends the precise, exact decisions He wishes them to make in every circumstance.
• May walk in a manner worthy of the Lord. This means asking that someone's life will have weight–will count eternally and not temporally.
• May bear fruit in every good work. We should pray for loved ones to remain so Christ-centered that He through them determines their conversation, conduct, and character.
• May increase in the knowledge of God. Can there be a more precious request than that of wanting someone to grow ever closer to our heavenly Father?
• May be strengthened and sustained with the power of God. Within an evil world system, we need the supernatural power of God to help us bear up under the strain.
• May give thanks that we already have qualified as saints of God. There is nothing for which we should be more appreciative.
FEATURED RESOURCE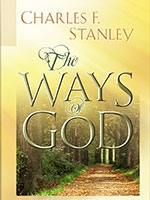 The Ways of God
from Dr. Charles Stanley
God's ways are always perfect, and following them leads to fulfillment and success. One of life's undeniable truths is that your choices will ultimately determine your future. While you can decide for yourself what career field to enter or who to marry, nothing compares with seeking God first and relying on the wonderful principles of His Word. In this series, Dr. Stanley teaches that as you serve God and seek His ways, you'll be blessed with peace, wisdom, and guidance for the journey ahead. Order here  now!
To see more resources from In Touch Ministries, please visit us at www.intouch.org  or go directly to our bookstore at In Touch Ministries.