In Touch Daily Devotional 
by Dr. Charles Stanley
---
January 04, 2007 
Developing Spiritual Discernment
"You know how I feel about that!" Perhaps you've said those words after discovering your clearly expressed position was disregarded. Learning that your feelings have been ignored is frustrating. Imagine, then, how saddened the Lord must be when believers pay no attention to His feelings or His words.
We're given spiritual discernment in order to make wise judgments, but we must choose to develop this gift. We do this by studying Scripture. If we want to know the Lord's mind about something, what better resource than the Guidebook He authored to reveal Himself to the world?
In the Bible, God has illustrated who He is and how He works. That way, we can correctly judge what is—and what is not—of Him. Christians aren't left to their own devices as they seek to become spiritually sensitive. The Lord assigned religious leaders the task of teaching His people discernment. (Ezekiel 44:23) Under the instruction of a spiritually mature mentor, we grow in righteousness by learning biblical principles and how to apply them.
Every aspect of life is influenced by our capacity to make wise, godly judgments. The scriptural principles we learn from our pastor connect with the beliefs we develop through Bible reading. Together, they form a grid which filters everything we see, hear, and experience. Any untruth that enters sets off an immediate alarm within our spirit. For this reason, it's critical to fill our minds with scriptural truth.
FEATURED RESOURCE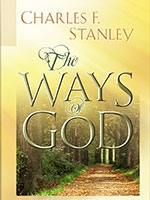 The Ways of God
from Dr. Charles Stanley
God's ways are always perfect, and following them leads to fulfillment and success. One of life's undeniable truths is that your choices will ultimately determine your future. While you can decide for yourself what career field to enter or who to marry, nothing compares with seeking God first and relying on the wonderful principles of His Word. In this series, Dr. Stanley teaches that as you serve God and seek His ways, you'll be blessed with peace, wisdom, and guidance for the journey ahead. Order here  now!
To see more resources from In Touch Ministries, please visit us at www.intouch.org  or go directly to our bookstore at In Touch Ministries.