January 4
Our Constant Friend 
2 Timothy 4:16-18
Many of us have experienced times of abandonment just when we needed that other person the most. It could have been a spouse withdrawing emotionally, a co-worker who ignored us, or a close friend who seemed too busy to help. The life of the apostle Paul teaches us how not to become discouraged in these situations.
Remember that the Lord is always with us. When we trust in Jesus as our personal Savior, we enter into a permanent relationship with Him, and His Spirit comes to live in us. Through the Holy Spirit, Jesus remains with us at all times, regardless of the circumstance. He is our friend—one who will never leave us. And His is the most important friendship we have. Reading our Bible will help us to remember this.
Draw on God's strength. Through the Holy Spirit, we have access to divine power every minute of the day. When we let go of control and depend on the Lord, we will be able to draw on His strength. Then, if family or friends cause hurt, His presence will provide comfort and help us to forgive them. 
Look expectantly for God's deliverance. Paul testified that the Lord had rescued him and would continue to deliver him from every evil situation. He knew he could always trust God.
Paul faced many painful situations without the support of friends. Toward the end of his life, those who cared about him were widely scattered. Yet his attitude remained hopeful because Christ was his constant Friend. Do you know the Savior? Are you aware of His presence throughout your day? 
For more biblical teaching and resources from Dr. Charles Stanley, please visit www.intouch.org.
Click here to watch Dr. Charles Stanley & In Touch Ministries Video Online
and
click here to listen to Dr. Stanley at OnePlace.com.
FEATURED RESOURCE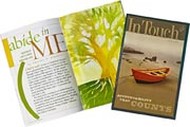 In Touch Magazine
Stories that Inspire, Teaching that Renews
If you like Dr. Charles Stanley's radio program, TV broadcast and books, then you'll love his free, award-winning monthly magazine. It's full of informative resources that will touch your heart and invigorate your faith. Every month, In Touch magazine brings readers daily devotionals from Dr. Stanley, in-depth Bible studies, inspiring articles and insightful teaching to help strengthen your family and your relationship with God. Click below to start your free subscription to In Touch magazine. 

Used with permission from In Touch Ministries, Inc. © 2009 All Rights Reserved.