In Touch Daily Devotional 
by Dr. Charles Stanley
---
January 05, 2007 
Adjusting to God's Plan
Dr. Stanley has been a Christian for more than 60 years, and in all that time God has never once said to him, "What do you want to do?" The Lord always tells us what He wants us to do. Also, the Lord never adjusts His plans to suit our purposes. Instead, God always requires that we adjust to His.
The reason He directs all believers in the way we're to go is because He's God—perfect in all wisdom and knowledge. He knows what's best for us at all times. Since our Father desires to be involved in every aspect of our life, He gives clear direction. That allows us to understand what His will is for every circumstance we encounter.
By walking in the center of God's will, we accomplish what we were created to do. We also experience life at its best. Imperfect humans will not automatically be in God's will. So, we must make an effort to seek His way and live according to biblical precepts.
God is immutable. He's not going to change to suit us. That means, we must make whatever adjustments are necessary to obey Him.
Sadly, by deciding not to get in line with the Lord's will, far too many Christians miss out on His best. He shows them what changes need to be made, but they hesitate. As a result, these believers spend their life wondering why peace and a lasting sense of satisfaction escapes them. They lack contentment no matter how many great things they do or experience. Only obedient living—according to the Father's plan—makes it possible to achieve genuine fulfillment.
FEATURED RESOURCE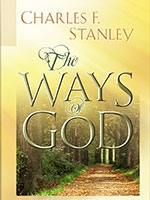 The Ways of God
from Dr. Charles Stanley
God's ways are always perfect, and following them leads to fulfillment and success. One of life's undeniable truths is that your choices will ultimately determine your future. While you can decide for yourself what career field to enter or who to marry, nothing compares with seeking God first and relying on the wonderful principles of His Word. In this series, Dr. Stanley teaches that as you serve God and seek His ways, you'll be blessed with peace, wisdom, and guidance for the journey ahead. Order here  now!
To see more resources from In Touch Ministries, please visit us at www.intouch.org  or go directly to our bookstore at In Touch Ministries.