January 5
Training Our Children 
Proverbs 22:6
From a young age, children observe the behavior of the significant adults in their lives. What a wonderful opportunity to influence the next generation for Jesus!
How do we train children in godliness? We start by investing our time in their lives. Boys and girls need their parents and others to spend quality time with them. Whether it's through outdoor activities, reading together, or quiet conversation, we can be modeling Christian living.
Listening closely is another part of raising our sons and daughters. To influence them toward righteousness, we must know what they are thinking—in other words, what's important to them and what bothers them.
Protecting children through discipline is another aspect of godly parenting. When done with love, this will help them understand the wisdom of God's boundaries and the importance of self-control.
Admitting our mistakes is also necessary, as transparency helps children draw closer to parents. If we seem perfect, kids will find it harder to confess their mistakes to us.
Perhaps the most important aspect of training is unconditional love. My mother consistently loved me both when I had success in school and when I didn't. Because of her steadfast care for me, I tried to do what she would find pleasing.
Raising a godly child takes the cooperation of believing parents and family, Christian teachers, and born-again friends. Look for opportunities to spend time with children, listen to their hearts, and demonstrate Christ's love for them. By modeling godliness, you may influence a life for the Lord.
For more biblical teaching and resources from Dr. Charles Stanley, please visit www.intouch.org.
Click here to watch Dr. Charles Stanley & In Touch Ministries Video Online
and
click here to listen to Dr. Stanley at OnePlace.com.
FEATURED RESOURCE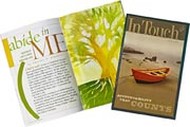 In Touch Magazine
Stories that Inspire, Teaching that Renews
If you like Dr. Charles Stanley's radio program, TV broadcast and books, then you'll love his free, award-winning monthly magazine. It's full of informative resources that will touch your heart and invigorate your faith. Every month, In Touch magazine brings readers daily devotionals from Dr. Stanley, in-depth Bible studies, inspiring articles and insightful teaching to help strengthen your family and your relationship with God. Click below to start your free subscription to In Touch magazine. 

Used with permission from In Touch Ministries, Inc. © 2009 All Rights Reserved.