In Touch Daily Devotional 
by Dr. Charles Stanley
---
January 06, 2007 
Remaining in God's Will
The Gospel writers carefully recorded the events during and after Jesus' life on earth. Because of their efforts, we know God's plans for His disciples. On the day Jesus called Peter, Andrew, James, and John into ministry, they did not know any of this. Still, these men went on to preach the Good News that offers redemption to the world.
These four disciples, along with other faithful followers, would be the foundation of Christ's church. Peter, in particular, would be a leader among leaders. But as the four men repaired nets and discussed the day's catch with their coworkers, they knew none of this.
Jesus' words were simple: "Follow Me, and I will make you fishers of men." All Peter, Andrew, James, and John knew was that He was asking them to leave their jobs, alter their relationships with loved ones, and adjust their religious beliefs to follow a radical preacher claiming to be God's Son. (Matthew 4:18-19; -17) And they did.
Jesus did not give His disciples many details in their first meeting. Nor does God typically offer an explanation when He wants us to make changes in our lives. Only later do we see the effects of our obedience.
The Bible says the Lord has an awesome purpose for every believer. Any adjustment He calls for is intended to guarantee the fulfillment of His plans for us. (Jeremiah 29:11) Those of us who adjust thoughts, words, and deeds—according to God's guidance—remain in the center of His will. Our reward for accepting the Lord's challenge to change and grow is an awesome opportunity to serve and to be blessed with His best.
FEATURED RESOURCE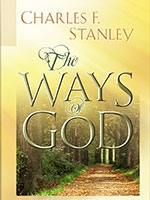 The Ways of God
from Dr. Charles Stanley
God's ways are always perfect, and following them leads to fulfillment and success. One of life's undeniable truths is that your choices will ultimately determine your future. While you can decide for yourself what career field to enter or who to marry, nothing compares with seeking God first and relying on the wonderful principles of His Word. In this series, Dr. Stanley teaches that as you serve God and seek His ways, you'll be blessed with peace, wisdom, and guidance for the journey ahead. Order here  now!
To see more resources from In Touch Ministries, please visit us at www.intouch.org  or go directly to our bookstore at In Touch Ministries.