January 7
Becoming a Prodigal 
Luke 15:11-19
The Prodigal Son's journey away from home began with a desire. Perhaps he wanted to leave behind some of the restrictions that come with living under a parent's roof. Or maybe he wanted more money to pursue life's pleasures with friends. Whatever the case, his desire gave birth to self-deceptive reasoning which assumes, There's no harm in what I am doing. I deserve this. That thinking led to a decision—to prematurely ask for his inheritance—and to his departure, both from home and from everything he had been taught.
A Christian who has turned away from God follows a path similar to the prodigal's. It begins in our minds with a craving for something other than what we have. The longer we allow the idea to linger, the stronger our desire to have it. When we cling to a yearning that is outside of God's protective will, then we likewise deceive ourselves and find ways to justify what we want. We will base decisions on our faulty reasoning and move away from the Lord to fulfill our self-centered dreams. Like the wayward son, we may enjoy the pleasures of the world for a time, but ultimately, we will find ourselves without the essentials we need—unconditional love, security, and a meaningful purpose for living.
We have an Enemy who seeks to divert us from the Lord's will, a world that places desires above God, and "flesh" tendencies which prefer pleasure over obedience. To avoid self-deception, make Scripture your basis for living—and adjust your thought life and choices accordingly (Rom. 12:2).
For more biblical teaching and resources from Dr. Charles Stanley, please visit www.intouch.org.
Click here to watch Dr. Charles Stanley & In Touch Ministries Video Online
and
click here to listen to Dr. Stanley at OnePlace.com.
FEATURED RESOURCE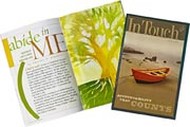 In Touch Magazine
Stories that Inspire, Teaching that Renews
If you like Dr. Charles Stanley's radio program, TV broadcast and books, then you'll love his free, award-winning monthly magazine. It's full of informative resources that will touch your heart and invigorate your faith. Every month, In Touch magazine brings readers daily devotionals from Dr. Stanley, in-depth Bible studies, inspiring articles and insightful teaching to help strengthen your family and your relationship with God. Click below to start your free subscription to In Touch magazine. 

Used with permission from In Touch Ministries, Inc. © 2009 All Rights Reserved.