In Touch Daily Devotional 
by Dr. Charles Stanley
---
January 08, 2007 
Misplaced Priorities
The Lord's parable of the foolish, wealthy man is a study in misplaced priorities. Believers today can learn from three mistakes he made: 1) he provided for himself, not for others; 2) he provided for his body, not for his spirit; and 3) he provided for this life, not for the life to come. There is always a penalty for misplaced priorities. This foolish man passed away with no opportunity to enjoy his goods. Even worse, he died with a bankrupt soul.
Serving the Lord and His kingdom is the key to setting proper goals. When believers make service for God a priority, they'll use a lens of righteousness to order their priorities. The question we should be asking is not "What shall I do?" but rather "Lord, what would You have me do?" The answer should be prayerfully sought and biblically evaluated. It dictates which things we must put first in order to achieve God's purpose for our life.
Life is not something that simply happens to people. Where we are today is largely determined by the way we prioritize our concerns in previous months and years. This means we can positively impact our future by organizing our priorities according to biblical guidelines. Then, unlike the rich, foolish man in Jesus' parable, we will learn the eternal value of providing for others so our own soul is fed. More than that, we will obey Jesus' command from Matthew 6:20, "Store up for yourselves treasures in heaven, where neither moth nor rust destroys, and where thieves do not break in or steal."
FEATURED RESOURCE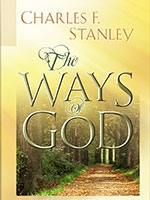 The Ways of God
from Dr. Charles Stanley
God's ways are always perfect, and following them leads to fulfillment and success. One of life's undeniable truths is that your choices will ultimately determine your future. While you can decide for yourself what career field to enter or who to marry, nothing compares with seeking God first and relying on the wonderful principles of His Word. In this series, Dr. Stanley teaches that as you serve God and seek His ways, you'll be blessed with peace, wisdom, and guidance for the journey ahead. Order here  now!
To see more resources from In Touch Ministries, please visit us at www.intouch.org  or go directly to our bookstore at In Touch Ministries.