July 6, 2009
Essential Truths of the Faith 
Matthew 7:24-25
Through faith in Jesus Christ, we become children of God and citizens of heaven (Phil. 3:20). We no longer belong to this world. Our allegiance is to the Lord. To live in a way pleasing to Him, our beliefs must align with His. These include:
• The Bible is true. It contains the self-revelation of our heavenly Father—His nature, plan of salvation, and dealings with mankind. God in His omnipotence made sure that His Word was recorded accurately (2 Tim. 3:16). There, we find everything we need for the Christian life (2 Peter 1:3). Since Scripture is the final authority on faith and conduct, embracing its truth is essential for all believers.
• The Lord created the heavens and the earth, including each of us. Genesis reveals a personal God who was intimately involved in this work. As Creator, He has authority and power over what He made.
• There is only one God, and He expresses Himself in three persons: God the Father, God the Son, and God the Holy Spirit. The terms Godhead, Trinity, and Triune God are all used to describe this concept, which is supported by numerous scriptures. For instance, both the Spirit and Jesus were active at creation (Gen. 1:2; Col. 1:16) and identified as divine (John 10:30; 16:7-15). 
Ask yourself, Do I believe that the whole Bible is the inspired, infallible word of God? Am I growing in my understanding of it? Am I learning to know the Holy Spirit as well as God the Father and His Son Jesus? Have I accepted the Lord's authority over my life, my family, and my world? 
For more biblical teaching and resources from Dr. Charles Stanley, please visit www.intouch.org
and
click here to listen to Dr. Stanley at OnePlace.com.
FEATURED RESOURCE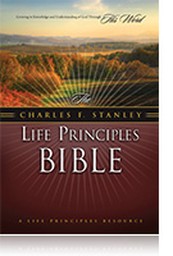 The NASB Life Principles Bible
You can now read the Scriptures in Dr. Stanley's favorite teaching translation -- the New American Standard -- while learning the 30 Life Principles that have guided him for more than 50 years. The new NASB Life Principles Bible will enhance your personal study time through explanation of key passages, plus helpful resources like "Answers to Life's Questions," concordance, maps, and much more. Available in leather and hardcover. 

Used with permission from In Touch Ministries, Inc. © 2009 All Rights Reserved.