June 1
The Priority of Life 
Matthew 6:31-33
What is the priority of your life—the one thing around which everything else revolves? Jesus tells us that God's
kingdom and righteousness are to be our highest priority.
Such a lofty goal will never be achieved through passivity. Rather, it demands continuous, diligent effort. "To seek" means to be active and aggressive in our quest. This isn't an issue that is settled once and for all in life; it must be pursued every day, moment by moment.
We live in a world of two opposing realms, which are in constant conflict—the kingdom of Satan and the kingdom of God. Our only protection against the Devil is the authority of the King of Kings. To seek the Father's kingdom is to submit to His rule over every area of our lives. The bottom line is obedience. Every decision must be subjected to His will.
To seek God's righteousness means submitting to His process of transforming us into Jesus' image. An integral part of this procedure is the renewing of our minds with Scripture. The Word of God washes away worldly thinking and replaces it with the Father's viewpoint and instructions. By yielding to His promptings, we will begin to sense His presence and discover the most satisfying relationship possible.
Stop and evaluate your priorities. Who or what dominates your thoughts and affections? Where do you invest time and money? How do you come to a decision? Making Christ top priority requires you to surrender your time and submit your will—but the rewards far outweigh any sacrifice.  
For more biblical teaching and resources from Dr. Charles Stanley, please visit www.intouch.org.
Click here to watch Dr. Charles Stanley & In Touch Ministries Video Online
and
click here to listen to Dr. Stanley at OnePlace.com.
FEATURED RESOURCE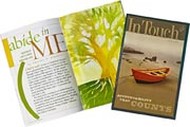 In Touch Magazine
Stories that Inspire, Teaching that Renews
If you like Dr. Charles Stanley's radio program, TV broadcast and books, then you'll love his free, award-winning monthly magazine. It's full of informative resources that will touch your heart and invigorate your faith. Every month, In Touch magazine brings readers daily devotionals from Dr. Stanley, in-depth Bible studies, inspiring articles and insightful teaching to help strengthen your family and your relationship with God. Click below to start your free subscription to In Touch magazine. 

Used with permission from In Touch Ministries, Inc. © 2009 All Rights Reserved.