Tuesday, June 10, 2008  -  Peace at Any Price?  -  Romans 12:17-18 
God wants our relationships to be peaceful. He understands human nature. God knows there'll be people that we can't live in harmony with. Scripture states Christians are responsible to resolve conflict with their fellow man. This doesn't mean pursuing tranquility at any price.
Keeping peace among family, coworkers, or friends sometimes requires going to great lengths. Scripture sets guidelines for frequent forgiveness, godly methods of correction, and right attitudes towards enemies. All of these principles run counter to human nature. The only way to successfully apply them is through the power and grace of Jesus Christ.
Despite our best efforts, peace is not always possible. When our actions are repeatedly rejected, ending the quest may be appropriate. If harmony is possible only by violating Scripture, we must refuse to compromise.
An attitude of "peace, no matter what" can affect who we become. Genuine feelings are repressed. Resentment and hurt get buried for the sake of pretending that all is well. The result will likely be either emotional turmoil or an explosive release of frustration. Neither is healthy or holy. Instead, approach others honestly. Live in true peace as stated in Romans 12:18 "if possible, so far as it depends upon you".
FEATURED RESOURCE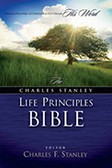 The Life Principles Bible
This Bible combines the wisdom of Scripture with the principles that guide Dr. Stanley's life and empower his ministry. Order your copy.
To see more resources from In Touch Ministries, please visit us at www.intouch.org or go directly to our bookstore at In Touch Ministries.