June 10, 2009
Our Thought Life 
1 Corinthians 2:11-16
God calls His children to live holy lives (1 Pet. 1:15-16). This requires both the Holy Spirit's help and our cooperation. We should begin with our thought life because our actions are based upon what we believe.
The first step is to acknowledge that our thoughts need changing. Selfishness, jealousy, and other unrighteous behavior come from ungodly thinking. Examining ourselves (2 Cor. 13:5) will reveal impure thoughts. Our Father wants these replaced with thinking bent toward forgiveness and kindness (Eph. 4:30-32). This will happen as we cooperate with the Holy Spirit in renewing our minds (Rom. 12:2).
Next, we make a commitment to the Lord that we will pursue godliness. This promise is much more than a New Year's resolution. It encompasses our entire being and is expressed as a desire to love God with our whole heart, soul, mind, and strength (Mark 12:30). It means dedicating ourselves to become like our Savior.
Daily time in the Word will keep our resolve strong. Through Scripture, the Holy Spirit will transform our mind and strengthen our inner being to bring about any needed changes. If we neglect Bible study, we leave ourselves open to the influence of the world and our "flesh," neither of which cares about godliness.
Becoming holy is a lifelong process that requires understanding of God's ways, plans, and priorities—and adopting them as our own. It means letting the Spirit develop within us the mind of Christ. If we try to change our behavior without adjusting our thinking, we'll find ourselves doing precisely what we want to avoid (Rom. 7:15). 
For more biblical teaching and resources from Dr. Charles Stanley, please visit www.intouch.org
and
click here to listen to Dr. Stanley at OnePlace.com.
FEATURED RESOURCE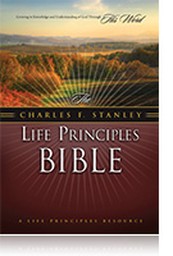 The NASB Life Principles Bible
You can now read the Scriptures in Dr. Stanley's favorite teaching translation -- the New American Standard -- while learning the 30 Life Principles that have guided him for more than 50 years. The new NASB Life Principles Bible will enhance your personal study time through explanation of key passages, plus helpful resources like "Answers to Life's Questions," concordance, maps, and much more. Available in leather and hardcover. 

Used with permission from In Touch Ministries, Inc. © 2009 All Rights Reserved.