In Touch Daily Devotional
by Dr. Charles Stanley
---
June 13, 2007 – Courage in the Lonely Hour –
2 Timothy 4:6-18
From a prison cell, Paul wrote to his spiritual son Timothy. The apostle had been arrested for preaching the gospel. Now, he was alone as he prepared to stand before the Roman tribunal that would decide which charges should be brought. He was a spiritual father to so many. Yet even very close friends had deserted him. He must have felt alone and disappointed.
When someone feels lonely, he's probably experiencing isolation from those he loves. This sense of disconnection is especially troubling when the person is experiencing a difficult situation. But Paul's discouragement was short-lived. In 2 Timothy 4:17, he says, "The Lord stood with me and strengthened me." As believers, we understand the Lord is always with us. But when we face an isolating circumstance, we truly experience His intimacy. God made His presence known to Paul so he no longer felt alone.
A sudden awareness of God wouldn't have surprised Paul. And in fact, he was probably anticipating the Lord. In some of the most trying and lonely times of the apostle's life, God had been there. For example, Paul feared for his life in Corinth and also faced drowning at sea (Acts 18:6-10; 27:22-25). As he recalled God's faithfulness to him in those difficult times, Paul was confident the Lord would surely be with him again.
We can depend upon the same promise as Paul. Hebrews 13:5 says, "I will never desert you, nor will I ever forsake you." The Lord is always with us. He will make His presence known in our lonely hours so we can have courage for whatever lies ahead.
FEATURED RESOURCE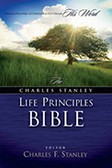 The Life Principles Bible
This Bible combines the wisdom of Scripture with the principles that guide Dr. Stanley's life and empower his ministry. Order your copy.
To see more resources from In Touch Ministries, please visit us at www.intouch.org or go directly to our bookstore at In Touch Ministries.