In Touch Daily Devotional
by Dr. Charles Stanley
---
June 15, 2007 – Making a Good Connection –
Ephesians 6:1-4
Far too many children today grow up with no connection to a father. Sometimes, boys are raised with no model of godly manhood. And girls mature without an illustration of how men should treat women. And even when they do have a father around, children can still miss out on vital lessons. Dads, take note of the following three areas that may jeopardize your ability to connect meaningfully with your kids:
First, absence deters your ability to connect with your children. Fathers play a tremendous role in their kids' view of God. If you're never there, working, or preoccupied, then your sons and daughters will see God the same way.
Emotions play an important part in the father-child relationship. Children crave an emotional connection with their fathers. Are you able to make yourself vulnerable and transparent in front of your family? Dads who don't laugh and cry with their kids will raise young men and women who stifle their own emotions. This can bring about emotional disconnection for generations to come.
The thought of a father abusing his child is inconceivable, yet it happens every day. Use discipline when necessary, but be absolutely certain the child understands you're acting out of love. Any man who disciplines a child out of anger demonstrates a horrible picture of a violent, unforgiving God.
Raising a child is a huge honor and privilege. But it's also a serious responsibility. Dr. Stanley challenges you to closely look at these three areas. Do your kids know you're there for them? Do they feel your love? Do they find comfort in your hands? Ask God to show His love for your children through you today.
FEATURED RESOURCE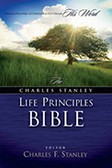 The Life Principles Bible
This Bible combines the wisdom of Scripture with the principles that guide Dr. Stanley's life and empower his ministry. Order your copy.
To see more resources from In Touch Ministries, please visit us at www.intouch.org or go directly to our bookstore at In Touch Ministries.