June 15, 2009
Know What You Believe 
1 Peter 3:13-16
Some people claim that it doesn't make a bit of difference what they believe. In fact, certain individuals go so far as to deny the existence of truth. Yet our belief system actually matters tremendously, because it is the foundation for our character, conduct, and decisions. 
For instance, a person who concludes that there is no God and no eternity will live selfishly for the moment. On the other hand, someone who trusts in the Lord and His promise of heaven will have a completely different lifestyle and purpose. Obedience, faith, and responsibility will characterize him as he lives to please his heavenly Father.
Knowing what we believe is critical—first of all, because our salvation depends on it. In John 8: 24, Jesus made a powerful and unequivocal statement about this subject: "Unless you believe that I am He, you will die in your sins." The Bible is very clear that all people have sinned and in their natural state are separated from God (Rom. 3:23). The punishment for sin is death, which is eternal separation from the Lord. But the Father, in His love and mercy, sent His own Son to die in our place. As a result, everyone who believes in Jesus is forgiven and receives His free gift of salvation. 
Believers are to share the good news of salvation, but the world's hostility can make us afraid. Today's passage  encourages us not to fear. Telling others about Jesus doesn't require lofty words or long quotations of memorized Scripture. Simply be ready with an answer if you're asked about "the hope that is in you" (1 Peter 3:15).
For more biblical teaching and resources from Dr. Charles Stanley, please visit www.intouch.org
and
click here to listen to Dr. Stanley at OnePlace.com.
FEATURED RESOURCE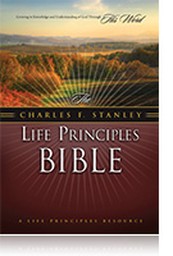 The NASB Life Principles Bible
You can now read the Scriptures in Dr. Stanley's favorite teaching translation -- the New American Standard -- while learning the 30 Life Principles that have guided him for more than 50 years. The new NASB Life Principles Bible will enhance your personal study time through explanation of key passages, plus helpful resources like "Answers to Life's Questions," concordance, maps, and much more. Available in leather and hardcover. 

Used with permission from In Touch Ministries, Inc. © 2009 All Rights Reserved.