June 15 
A Clear Conscience 
Acts 24:10-16
When facing hard decisions, do you pay attention to your conscience? And is it necessarily wise to trust this inner voice?
God gave everyone an internal "moral compass." In fact, reflecting His truth within all men is one way that He reveals Himself to mankind. The conscience is a divine alarm system that warns us of oncoming danger or consequences. Its primary purpose is godly protection and guidance.
But sin warps perception and can lead us astray. So it's important to understand the difference between following your heart and allowing a clear conscience to help with decisions. To make a determination, ask, What is the greatest influence on my morality? If the world's system of what is acceptable has infiltrated your heart, then your conscience cannot be trusted. But if you have allowed God's Word to permeate and transform your thinking (Rom. 12:2), that inner voice is likely trustworthy.
The Holy Spirit, along with a divinely informed conscience, guides believers. In order to maintain a healthy internal compass, we should continually meditate on Scripture. The Ten Commandments are a solid basis for morality, and we are wise to internalize them—especially the two Jesus highlighted: to love God above all else and to love others (Matt. 22:36-40).
What would you say has the greatest impact on your belief system? Is it the truth of Scripture? Or do the world's standards of right and wrong infect your heart? Almighty God knows what is best for you, His child—and He gave you a conscience to aid in making wise decisions. 
For more biblical teaching and resources from Dr. Charles Stanley, please visit www.intouch.org.
Watch Online Videos of Dr. Charles Stanley and In Touch Ministries at LightSource.com
and
Listen to Dr. Charles Stanley Online Broadcasts at OnePlace.com.
FEATURED RESOURCE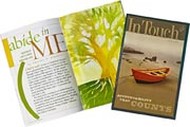 In Touch Magazine
Stories that Inspire, Teaching that Renews
If you like Dr. Charles Stanley's radio program, TV broadcast and books, then you'll love his free, award-winning monthly magazine. It's full of informative resources that will touch your heart and invigorate your faith. Every month, In Touch magazine brings readers daily devotionals from Dr. Stanley, in-depth Bible studies, inspiring articles and insightful teaching to help strengthen your family and your relationship with God. Click below to start your free subscription to In Touch magazine. 

Used with permission from In Touch Ministries, Inc. © 2009 All Rights Reserved.