Monday, June 16, 2008 -  What It Means to Believe in Jesus  - John 3:16-18
The apostle Paul, recorded in Acts 16, told his jailer, "Believe in the Lord Jesus and you will be saved." That Philippian man and his household had saving faith. They accepted the invitation and joined God's family.
Saving faith has three elements which are knowledge, conviction, and trust. The knowledge component means to believe in Jesus as our Savior, we need to know who He is. We need to know what Jesus accomplished. And finally, we need to know why it was necessary.
Jesus is the Son of God. At the request of God the Father, Jesus set aside His divine rights. Jesus took on human form to live on earth.
Jesus did this to accomplish much for us. Jesus lived a perfect life. This action qualified Him to be our substitute. Jesus stood in our place. He bore God's judgment for our sins. His death on the cross made way for us to be forgiven and experience peace with God.
Several people still question Jesus' death. But, we couldn't save ourselves. Our "good deeds" are scarred by our sin nature. When we accept Christ's remorseful work, we go from being God's enemy to a member of His family.
FEATURED RESOURCE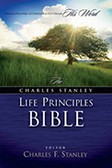 The Life Principles Bible
This Bible combines the wisdom of Scripture with the principles that guide Dr. Stanley's life and empower his ministry. Order your copy.
To see more resources from In Touch Ministries, please visit us at www.intouch.org or go directly to our bookstore at In Touch Ministries.