June 18, 2009
The Source of Our Strength 
Zechariah 4:6
The world watches to see what sets Christianity apart as special. And the divine strength of Jesus Christ is best demonstrated at our point of weakness. As was true for the apostle Paul, God's might is available to us at all times—and it is the same awesome, supernatural power that raised Christ from the dead (Rom. 8:11; 2 Cor. 13:4). God will tailor His power to our need, but not when we rely on our own energy and skill to get the job done.
Unfortunately, our tendency is to try living in our personal strength and abilities until we come across an obstacle that is too large. At that point, we often want to tap into a reservoir of God's power—but just until the situation starts to improve. Once that happens, we frequently fall back on our self-reliant ways.
The Lord desires that we depend on Him fully at all times. He knows that any other approach will lead only to emptiness and failure. Our heavenly Father, in His infinite wisdom, allows problems and deficiencies in our lives so that we will have to lean on Him. Then He can gradually strip away our self-sufficiency and teach us humility. As our relationship with Him deepens in knowledge and intimacy, His divine strength will increasingly flow through us.
To access God's amazing power, we must first recognize our own frailty. Then, we should seek His revelation about areas of life that we are attempting to handle through human capability. Next, we're to ask for His guidance and empowerment. A final—and continuous—step is to pursue an ever-deepening relationship with Jesus. 
For more biblical teaching and resources from Dr. Charles Stanley, please visit www.intouch.org
and
click here to listen to Dr. Stanley at OnePlace.com.
FEATURED RESOURCE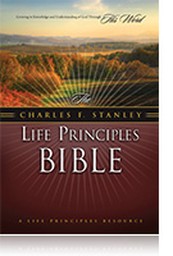 The NASB Life Principles Bible
You can now read the Scriptures in Dr. Stanley's favorite teaching translation -- the New American Standard -- while learning the 30 Life Principles that have guided him for more than 50 years. The new NASB Life Principles Bible will enhance your personal study time through explanation of key passages, plus helpful resources like "Answers to Life's Questions," concordance, maps, and much more. Available in leather and hardcover. 

Used with permission from In Touch Ministries, Inc. © 2009 All Rights Reserved.