June 21 
God Knows Our Needs  
Philippians 4:10-19
Today's passage presents an interesting paradox. Paul promises the Philippians that God will supply all their needs (v. 19) yet admits that he has experienced times of want (v. 12). To reconcile these two statements, let's consider God's divine viewpoint.
Paul wrote these words from a prison cell—a place of great physical discomfort. From a human perspective, we would all agree that God should have provided for Paul by relieving his suffering. But instead, the Lord taught him contentment in this difficult situation. Although his physical discomfort remained, a greater need for a changed attitude was met.
A change of heart toward ongoing suffering is a huge challenge. On our own, it's impossible, but the Lord promises to strengthen us through Christ. By living in dependence and submission to Him, we gain His power to overcome our negative, sinful attitudes and learn contentment in all kinds of situations.
Our problem is not that the Lord won't provide for us, but that we so often fail to understand what our deepest needs are. God sees from an unlimited perspective and works for our eternal good, providing for us according to His good purposes from the limitless supply of "His riches in glory."
Instead of merely pleading with God to take away your difficulty, try asking Him to strengthen you through it. Although He may not always deliver you from trials, you can count on Him to work in you to produce contentment, no matter what your external needs may be.
For more biblical teaching and resources from Dr. Charles Stanley, please visit www.intouch.org.
Watch Online Videos of Dr. Charles Stanley and In Touch Ministries at LightSource.com
and
Listen to Dr. Charles Stanley Online Broadcasts at OnePlace.com.
FEATURED RESOURCE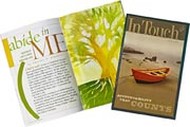 In Touch Magazine
Stories that Inspire, Teaching that Renews
If you like Dr. Charles Stanley's radio program, TV broadcast and books, then you'll love his free, award-winning monthly magazine. It's full of informative resources that will touch your heart and invigorate your faith. Every month, In Touch magazine brings readers daily devotionals from Dr. Stanley, in-depth Bible studies, inspiring articles and insightful teaching to help strengthen your family and your relationship with God. Click below to start your free subscription to In Touch magazine. 

Used with permission from In Touch Ministries, Inc. © 2009 All Rights Reserved.