June 24 
Attributes of God 
Psalms 90
As believers, we desire to know the One we worship. Human comprehension is limited, yet understanding all we can is very beneficial—it deepens our relationship with the Father and helps us to share our faith with others. With that in mind, let's explore four attributes of almighty God.
1. He is a "person" (Ex. 20:1-6). We were created with the amazing ability to feel, reason, and make decisions. And God has the capacity for emotion as well—Genesis 1:26 says we were made in His image. And the Scriptures frequently make mention of His feelings, like anger and love.
2. The Lord is spirit (John 4:22-24). Because of this, He has no limitations; He isn't confined to a body or place, so we can worship in His presence at church while others are experiencing Him elsewhere. What's more, His Spirit indwells each believer, so we can enjoy His presence and guidance anytime, as long as we don't allow sin to interfere (Ps. 66:18).
3. God is eternal (Is. 40:28). He always was, is now, and forever will be. Nothing existed before Him or will outlast Him.
4. Our Father is unchangeable (Mal. 3:6). His nature and attributes always remain constant. Yes, God experiences variety in emotions, but not in the essence of His character.
What a blessing that our holy Lord would reveal His character to us through the Bible. And how amazing that He makes it possible for us to have a relationship with Him through His Son Jesus. Praise Him for His attributes, and continue seeking to know Him better through His Word. 
For more biblical teaching and resources from Dr. Charles Stanley, please visit www.intouch.org.
Watch Online Videos of Dr. Charles Stanley and In Touch Ministries at LightSource.com
and
Listen to Dr. Charles Stanley Online Broadcasts at OnePlace.com.
FEATURED RESOURCE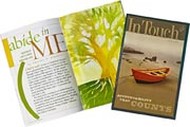 In Touch Magazine
Stories that Inspire, Teaching that Renews
If you like Dr. Charles Stanley's radio program, TV broadcast and books, then you'll love his free, award-winning monthly magazine. It's full of informative resources that will touch your heart and invigorate your faith. Every month, In Touch magazine brings readers daily devotionals from Dr. Stanley, in-depth Bible studies, inspiring articles and insightful teaching to help strengthen your family and your relationship with God. Click below to start your free subscription to In Touch magazine. 

Used with permission from In Touch Ministries, Inc. © 2009 All Rights Reserved.