June 25 
Wants and Needs: The Difference 
Psalms 34:8-10
Sometimes people perceive a desire as a necessity. The heart can become so consumed with a craving that fulfilling it feels critical to well-being. Then, when God does not meet the "need," anger and frustration result.
Believers wondering why they have been neglected should honestly answer one question: "Is my petition essential to accomplishing God's purpose, or is it only for my enjoyment?" Beyond basics like food and shelter, necessities might include counseling for a troubled marriage or money for a mission trip. If we can't complete the Lord's plan without something, then it is a need, and He will answer when we pray for Him to fulfill that requirement (Phil. 4:19).
God is also pleased to satisfy desires that fit within the confines of His purpose and will (Ps. 37:4). The things we long for bring pleasure, entertainment, or a sense of joy. Many are good and worth pursuing, but they become troublesome when we deem them essential for our plans. God isn't obligated to grant wishes or fulfill any plans but His own. However, He says that those who seek Him won't lack any good thing (34:10). Pursuing the Lord above all else means making our desires subject to His will. And when we "delight in the Lord" (37:4), He'll also shape our desires to be most beneficial.
The heavenly Father wants to be His children's greatest delight—the One in whom fulfillment and satisfaction are found. When that is true in a believer's life, then he or she does not require a lot of "stuff," entertainment, or people in order to be happy. Joy is in the Lord.
For more biblical teaching and resources from Dr. Charles Stanley, please visit www.intouch.org.
Watch Online Videos of Dr. Charles Stanley and In Touch Ministries at LightSource.com
and
Listen to Dr. Charles Stanley Online Broadcasts at OnePlace.com.
FEATURED RESOURCE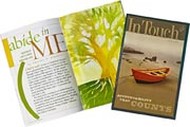 In Touch Magazine
Stories that Inspire, Teaching that Renews
If you like Dr. Charles Stanley's radio program, TV broadcast and books, then you'll love his free, award-winning monthly magazine. It's full of informative resources that will touch your heart and invigorate your faith. Every month, In Touch magazine brings readers daily devotionals from Dr. Stanley, in-depth Bible studies, inspiring articles and insightful teaching to help strengthen your family and your relationship with God. Click below to start your free subscription to In Touch magazine. 

Used with permission from In Touch Ministries, Inc. © 2009 All Rights Reserved.