Tuesday, June 3, 2008 - Serving God With a Soft Heart - Jonah 4 
Jonah was swallowed by a big fish, while trying to run from God. In the creature's belly, he decided to follow the Lord's will. When Jonah was called a second time to preach remorse (repentance) in Nineveh, he obeyed.
The often-overlooked part of this story is what happened after Jonah obeyed. Jonah warned the people across the city of divine wrath. They responded by turning away from wickedness.
The Ninevites' response should have made Jonah happy. But, Jonah grieved over their sorrow. Jonah was upset about God's mercy on them. Nineveh and Israel were longtime enemies. Jonah angrily told the Lord he had fled to Tarshish to avoid this time of forgiveness.
Jonah was displeased because his heart was hard. It was just as hard as when he ran to Tarshish. Trapped inside the fish, Jonah changed his mind about following the Lord's command. He expressed willingness to do whatever God wanted him to do. But, Jonah's heart still desired the Ninevites' destruction. Jonah's bitterness and reluctance showed through in spite of his righteous actions.
God is not fooled by good behavior from a hard heart. Obeying Him with an unwilling spirit may achieve His purpose, but we lose the joy of our reward. Perhaps the Lord has called you to serve Him in a way that is personally challenging. As you commit to following His will, pray also for a soft heart. You will find peace and blessing in doing the work, if you follow Him without hesitation.
FEATURED RESOURCE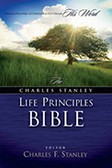 The Life Principles Bible
This Bible combines the wisdom of Scripture with the principles that guide Dr. Stanley's life and empower his ministry. Order your copy.
To see more resources from In Touch Ministries, please visit us at www.intouch.org or go directly to our bookstore at In Touch Ministries.