June 3, 2009
Acceptance by God 
John 3
Nicodemus was a man who appeared to have a secure reservation for heaven. He was a Pharisee who meticulously obeyed the Law of the Lord, a teacher of the nation of Israel, and a moral, upright man. He fully expected to be in the kingdom of God. Can you imagine his shock when Jesus told him all his efforts would not work?
Many people still try to use the same futile approach: If I add enough good works to my life and take away enough bad practices, then I'll be accepted by God. This equation will not work for you any more than it did for Nicodemus, because the root problem remains unchanged.
Everyone begins life as a sinner with no ability to relate to the Lord. Though physically alive at birth, we are spiritually dead. No amount of adding good and subtracting bad will make us alive toward God. Jesus told Nicodemus that the only solution to his dilemma was to be born again.
Fallen mankind needs a rebirth from above that will bring life to their dead spirits. Because alienation from God began with sin, Jesus provided the solution by paying sin's penalty (Rom. 6:23) and offering eternal life to whoever trusts in Him. The Holy Spirit comes to live within every believer and gives new life. Then all barriers of separation from the Lord are removed.
Have you placed your faith in Jesus? He  has opened the entrance into the kingdom of God, and it's your choice whether to enter. Awaiting you are spiritual life, acceptance by the Lord, a relationship with Him, and a reservation in heaven. Eternal life is at stake. Believe in Christ's finished work on your behalf—and live. 
For more biblical teaching and resources from Dr. Charles Stanley, please visit www.intouch.org
and
click here to listen to Dr. Stanley at OnePlace.com.
FEATURED RESOURCE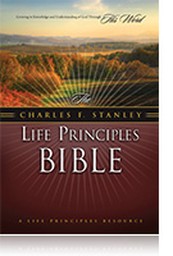 The NASB Life Principles Bible
You can now read the Scriptures in Dr. Stanley's favorite teaching translation -- the New American Standard -- while learning the 30 Life Principles that have guided him for more than 50 years. The new NASB Life Principles Bible will enhance your personal study time through explanation of key passages, plus helpful resources like "Answers to Life's Questions," concordance, maps, and much more. Available in leather and hardcover. 

Used with permission from In Touch Ministries, Inc. © 2009 All Rights Reserved.