June 30, 2009
Things That Cannot Be Shaken 
Hebrews 12:25-29
The Lord is always moving toward the climactic moment when this world will be replaced by a new heaven and earth. Toward that end, He strips away all that is counterfeit and ungodly from both nations and individuals. According to the Bible, this process will accelerate as the last days near. God will remove whatever can be shaken, so what remains will be the things that cannot be shaken (Heb. 12:27).
Believers have an unshakable dwelling place. When we first chose to trust in the Savior, we were born into God's kingdom and given a new safe position referred to as being "in Jesus Christ" (Rom. 6:11). Outside forces can disrupt neither the kingdom nor the relationship. Even though life will at times entail suffering and tribulation, the Lord's followers are secure.
For what power can stand against our sovereign Lord Jesus Christ? Everything that exists must submit to Him. Even as wars rage, injustice spreads, and governments fail, He remains in absolute control. Man is allowed to exercise wickedness so that the content of his heart will be revealed, as will his great need for a Savior. Even the most despicable tyrant has the opportunity to repent. But those who refuse grace will be destroyed along with everything else that violates God's perfect order.
We live in unsettling times. As conditions worsen, it becomes easier to see why Scripture  calls God a consuming fire (Heb. 12:29). He is burning up all that displeases Him. And He will continue until the only ones remaining are the righteous who who stand under the Lordship of Christ and await His kingdom on earth.
For more biblical teaching and resources from Dr. Charles Stanley, please visit www.intouch.org
and
click here to listen to Dr. Stanley at OnePlace.com.
FEATURED RESOURCE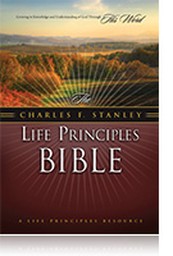 The NASB Life Principles Bible
You can now read the Scriptures in Dr. Stanley's favorite teaching translation -- the New American Standard -- while learning the 30 Life Principles that have guided him for more than 50 years. The new NASB Life Principles Bible will enhance your personal study time through explanation of key passages, plus helpful resources like "Answers to Life's Questions," concordance, maps, and much more. Available in leather and hardcover. 

Used with permission from In Touch Ministries, Inc. © 2009 All Rights Reserved.