June 4 
Feelings of Inferiority 
Ephesians 2:10
Early in my life, I experienced some feelings of inferiority. Because we struggled financially, my mom and I didn't live in the "right" places, and I didn't wear the "right" clothes. Even in school, I felt that I did not measure up academically to the other kids. The sense of failure and embarrassment at not being good enough was devastating to me.
The misery of inferiority is never what God intends for His children. Its seed usually takes root in the impressionable hearts of the young and thrives in an atmosphere of comparison. This kind of emotional baggage can have debilitating and enslaving ramifications in every area of life. Feelings of inadequacy may cause avoidance of healthy challenges; low self-esteem cripples personal relationships; and comparison steals contentment.
We need to understand how God sees us. Then, when feelings of inferiority come, we can cling to His accurate assessment rather than our own faulty one. He says we are His workmanship—His masterpieces. Each person is specially and uniquely designed by the Creator for His purpose. The differences that cause us to make comparisons and feel discouraged are the very qualities that the Lord "programmed" into us to bring Him glory.
Feelings of inferiority are a hindrance to becoming the people God designed us to be and fulfilling His purpose for our lives. When it comes to our value, we either accept the truth of His appraisal or decide not to believe Him and instead rely on our own feelings. What will your choice be?
For more biblical teaching and resources from Dr. Charles Stanley, please visit www.intouch.org.
Watch Online Videos of Dr. Charles Stanley and In Touch Ministries at LightSource.com
and
Listen to Dr. Charles Stanley Online Broadcasts at OnePlace.com.
FEATURED RESOURCE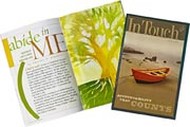 In Touch Magazine
Stories that Inspire, Teaching that Renews
If you like Dr. Charles Stanley's radio program, TV broadcast and books, then you'll love his free, award-winning monthly magazine. It's full of informative resources that will touch your heart and invigorate your faith. Every month, In Touch magazine brings readers daily devotionals from Dr. Stanley, in-depth Bible studies, inspiring articles and insightful teaching to help strengthen your family and your relationship with God. Click below to start your free subscription to In Touch magazine. 

Used with permission from In Touch Ministries, Inc. © 2009 All Rights Reserved.