In Touch Daily Devotional
by Dr. Charles Stanley
---
March 22-23, 2008 – The Resurrection: A Preview – 1 Corinthians 15:42-48 
            Many fanciful ideas have passed down through church tradition about what we'll look like in heaven. For instance, people often picture the saints reclining on clouds and playing harps. The apostle Paul was far more accurate and practical in describing our resurrected bodies. 
            The Scriptures assure us that departed believers are already with Jesus in spirit— according to 2 Corinthians 5:8, as soon as a Christian is absent from the body, he is present with the Lord. When Christ returns, a trumpet will sound, and all who died believing in Him will be raised so that their bodies can join their spirits (Revelation 21). Shortly after, living believers will be transformed. In that way, all followers of God will be prepared to be part of His new heaven and earth. 
            Our resurrected bodies will be perfect. First of all, we will be imperishable (v. 52). In other words, we can't be damaged or worn out—our form will be healthy and strong for all eternity. Second, we'll be raised in glory (v. 43), which means we will be so like God that we are reflections of His radiance. Third, our new bodies will be powerful and capable of doing everything the Lord requires. In the kingdom, we will not be idle. Fourth, rebellion will no longer be part of us. Since we won't have to deal with the residual effects of our "flesh" nature any longer, we'll be able to serve the Lord in an unhindered manner. 
            Our eternal bodies will be perfectly equipped to continue what we have begun on earth—serving the Lord with our whole heart, mind, and strength.
FEATURED RESOURCE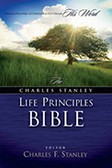 The Life Principles Bible
This Bible combines the wisdom of Scripture with the principles that guide Dr. Stanley's life and empower his ministry. Order your copy.
To see more resources from In Touch Ministries, please visit us at www.intouch.org or go directly to our bookstore at In Touch Ministries.