March 5
The Value of God's Word 
2 Timothy 3:14-17
From the opening line of Genesis to the final words of Revelation, all of Scripture is divinely inspired. And every word has purpose and importance.
The Old Testament introduces us to God's nature, ways, and power; it lays the foundation for us to understand the Lord's holiness and humanity's desperate need for a Savior. The New Testament explains that Jesus sacrificially became our "bridge" to the Father (John 14:6). Its writings clarify why we must trust Christ for salvation, how to live as God's children, and what to expect in this life and after death.
Through the Scriptures, almighty God reveals Himself to us. He also says that His Word is important for teaching, reproof, correction, instruction, and preparation for what we will face in life (2 Tim. 3:16-17). No other book holds such value for living.
Ephesians 6:13-17 compares the Word to armor, and for good reason: in the battle of life, we have a real enemy who wants to destroy us. But God's power is greater (1 John 4:4), and "dressing" in war gear daily prepares His children for the temptations, lies, and decisions they will face. We ought to be excited about the Word of God, for it is the only hope for mankind—and the only instruction that leads to victory both in life and after physical death.
The Bible predicted that many people would reject the truth, and a glimpse at our culture shows that to be the case. Don't let yourself fall into the same trap. Meditate daily on Scripture, and ask God to speak to you. Life without His truth is destined for failure.
For more biblical teaching and resources from Dr. Charles Stanley, please visit www.intouch.org.
Click here to watch Dr. Charles Stanley & In Touch Ministries Video Online
and
click here to listen to Dr. Stanley at OnePlace.com.
FEATURED RESOURCE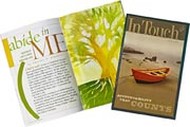 In Touch Magazine
Stories that Inspire, Teaching that Renews
If you like Dr. Charles Stanley's radio program, TV broadcast and books, then you'll love his free, award-winning monthly magazine. It's full of informative resources that will touch your heart and invigorate your faith. Every month, In Touch magazine brings readers daily devotionals from Dr. Stanley, in-depth Bible studies, inspiring articles and insightful teaching to help strengthen your family and your relationship with God. Click below to start your free subscription to In Touch magazine. 

Used with permission from In Touch Ministries, Inc. © 2009 All Rights Reserved.