March 9
Intimacy With Our Heavenly Father 
John 1:12-13
From the beginning, God intended to have an intimate, loving relationship with us. What evidence do we have that this is His desire?
His Son. One reason Christ came to earth is for us to know and relate to God the Father. The Bible tells us that Jesus is His exact representation; His words and works were the same as God's (John 5:19; 12:50). Therefore, when we look at the Son, we are seeing the character of our heavenly Father.
Invitation. Through the Scriptures, God invites us to join His family (3:16). He took care of all the arrangements; our part is to say yes.
Adoption. The closest tie we can have with one another is family. At salvation, the Lord adopts us into His own. This relationship with our heavenly Father lasts for eternity, providing us with support, encouragement, and love.
Friendship. By calling His disciples "friends" (15:15), Jesus revealed a new aspect to their relationship, which applied to His future followers as well. Christ is a forever friend, one who will never desert or turn away from us.
His Presence. From the moment of our salvation, we are indwelt by the Holy Spirit. He is even closer to us than any earthly kin can be.
The Lord invites us to become family through faith in Christ. This is our highest calling—to believe in Him and live for Him all of our days (20:31). Once we become God's children, His Spirit will work in us to make our family resemblance stronger and clearer in thought, word, and deed. 
For more biblical teaching and resources from Dr. Charles Stanley, please visit www.intouch.org.
Click here to watch Dr. Charles Stanley & In Touch Ministries Video Online
and
click here to listen to Dr. Stanley at OnePlace.com.
FEATURED RESOURCE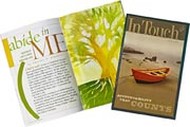 In Touch Magazine
Stories that Inspire, Teaching that Renews
If you like Dr. Charles Stanley's radio program, TV broadcast and books, then you'll love his free, award-winning monthly magazine. It's full of informative resources that will touch your heart and invigorate your faith. Every month, In Touch magazine brings readers daily devotionals from Dr. Stanley, in-depth Bible studies, inspiring articles and insightful teaching to help strengthen your family and your relationship with God. Click below to start your free subscription to In Touch magazine. 

Used with permission from In Touch Ministries, Inc. © 2009 All Rights Reserved.