In Touch Daily Devotional
by Dr. Charles Stanley
---
March 26, 2007 – Blessings of Obedience – Luke 5:1-5
            Welcome to the In Touch Devotional.
            In John 14:15, Jesus said to His disciples, "If you love Me, you will keep My commandments." He repeated the connection between love and obedience several other times because of its great importance (John 14:23; 1 John 5:3; 2 John 1:6).
            When we follow God's agenda, we tell Him, "I love You." Obedience is an expression of love toward God. It enables us to endure trials and difficulties. Also, God pours out His blessings on those who obey.
            Consider Peter's example: Jesus asked to use his boat to preach to the crowd. Peter hadn't caught any fish all night. He could have easily given Jesus an excuse, such as, I'm too tired, too discouraged, and I've got a lot of cleaning up to do. Instead, he said yes to Jesus' request. By doing so, Peter took a step into a life of obedience and blessing.
On the surface, lending his boat and helping Jesus didn't appear to be important beyond the moment. But, God had a bigger purpose than a short-term loan. He was going to borrow Peter's life and make him a "fisher of men" (Matthew 4:19).
            Because we can not always see what our Lord has in mind, we may not comprehend the importance of His requests. We could be tempted to change it to fit our plans, to wait for a more convenient time, or to skip it all together. Those actions are never smart.
            God rewarded Peter by allowing him to serve in His Kingdom. He wants to do the same for us. How is the Holy Spirit prompting you? What's your response?
FEATURED RESOURCE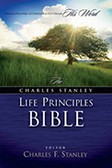 The Life Principles Bible
This Bible combines the wisdom of Scripture with the principles that guide Dr. Stanley's life and empower his ministry. Order your copy.
To see more resources from In Touch Ministries, please visit us at www.intouch.org or go directly to our bookstore at In Touch Ministries.