May 10
The Call of God 
1 Samuel 3:2-18
As a young child, Samuel lived in the temple with his mentor, Eli the priest. One night, the boy heard his name called, so he ran to ask Eli what he wanted. The priest, however, hadn't spoken, so he sent the child back to bed. This happened two more times before Eli realized that the Lord was the one calling the boy. Then he instructed Samuel to respond by asking the Lord what He wanted.
Almighty God still speaks to us today. The first time we "hear" Him is when He calls us to salvation. The Holy Spirit makes us aware that something is missing in our life, and then He points us to Jesus Christ as the answer.
Without the Savior, we are lost and hopeless. Everyone is born with a sinful nature that's "bent" away from God. The Father, who's holy and perfect, cannot be in the presence of unholiness. Therefore, the penalty for sin is death—eternal separation from Him. But God loves us, so to correct that situation, Jesus came to earth, lived the perfect life, and died as a substitute for mankind. He took the penalty for our wrong.
Salvation is the greatest gift. To receive it, all we have to do is trust in Jesus as our Lord and Savior. Then, He abides with us and continues to speak, guiding gently and encouraging us toward righteousness.
Have you felt God speaking to you? If so, don't delay. Ask Him to forgive your sin; then accept Christ's substitutionary sacrifice on your behalf, and choose to follow Him. Share your decision with a pastor or trusted Christian friend so that you can have guidance on this beautiful new journey.
For more biblical teaching and resources from Dr. Charles Stanley, please visit www.intouch.org.
Click here to watch Dr. Charles Stanley & In Touch Ministries Video Online
and
click here to listen to Dr. Stanley at OnePlace.com.
FEATURED RESOURCE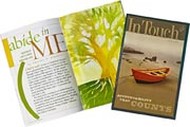 In Touch Magazine
Stories that Inspire, Teaching that Renews
If you like Dr. Charles Stanley's radio program, TV broadcast and books, then you'll love his free, award-winning monthly magazine. It's full of informative resources that will touch your heart and invigorate your faith. Every month, In Touch magazine brings readers daily devotionals from Dr. Stanley, in-depth Bible studies, inspiring articles and insightful teaching to help strengthen your family and your relationship with God. Click below to start your free subscription to In Touch magazine. 

Used with permission from In Touch Ministries, Inc. © 2009 All Rights Reserved.