May 12, 2009
No One Is Beyond God's Reach
Matthew 25:31-40
Last winter, one of our church deacons died. In preparing for his funeral, I thought about the truth that countless prisoners realized because of his life: If God can save that man, He can save me too.
The deacon was a Christian for 30-plus years, but before that he'd lived hard. He participated in some of the most reviled activities our society has to offer and paid a price behind bars. But once God got hold of him, he couldn't stay quiet about his heart's transformation. This former slave to sin spent part of each week sharing the gospel in prisons. The inmates listened, and many believed, because their minister's life was a testament to God's power. He'd often share excitedly with me about those who had come to a saving knowledge of Jesus Christ.
Scripture very clearly states that the Lord's desire is for all people to be saved (1 Tim. 2:4). No one can do anything to put himself beyond God's reach. Yet many people believe that is exactly where they are—too far, too dirty, or too hopeless for the Father to want them. The church desperately needs Christians willing to share their testimony! It doesn't make any difference if your story is less dramatic than my friend's—God will set in your path hungry individuals to whom your witness is like manna from heaven.
If you are a believer, then you have been commissioned to make disciples for Jesus Christ (Matt. 28:19). Start telling your story to those willing to listen. Among them are men and women who will hear what the Lord has done and say, "If God can do that for you, He can do it for me too!" 
For more biblical teaching and resources from Dr. Charles Stanley, please visit www.intouch.org
and
click here to listen to Dr. Stanley at OnePlace.com.
FEATURED RESOURCE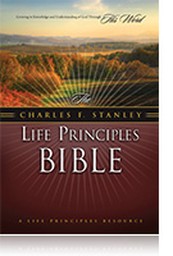 The NASB Life Principles Bible
You can now read the Scriptures in Dr. Stanley's favorite teaching translation -- the New American Standard -- while learning the 30 Life Principles that have guided him for more than 50 years. The new NASB Life Principles Bible will enhance your personal study time through explanation of key passages, plus helpful resources like "Answers to Life's Questions," concordance, maps, and much more. Available in leather and hardcover. 

Used with permission from In Touch Ministries, Inc. © 2009 All Rights Reserved.