May 14
The Transforming Grace of God 
Romans 8:28-30
God has predestined every believer to be conformed to the likeness of His Son Jesus Christ. The process begins at salvation and continues until we join Him in heaven. The apostle Paul is a good example of the Lord's power to transform an unrighteous man into an image-bearer of Jesus.
God changed a sinner into a saint. Paul was deeply religious before his conversion, but he relied on good works and a pious nature to gain divine acceptance. When he met the Lord on the road to Damascus, the future apostle learned that all of his religious zeal meant nothing. The only way for people to be acceptable before God is to receive the saving grace of Christ—He replaces our sin nature with a righteous spirit.
And even though saints will sometimes falter and make mistakes, our heavenly Father remains patient and loving toward His children. He uses our failures to teach us more about Himself and His ways.
God changed a servant of sin into a servant of the Lord (Rom. 6:16). Paul was welcomed into the kingdom in spite of his hostility toward the church. He'd promoted blasphemy, punished believers, and cast his vote against those being put to death (Acts 26:10-11). The lesson here is that no one can sin beyond the Lord's capacity to forgive.
The Father shapes and chisels His children until they mirror His Son. He turned one of the early church's enemies into a wise and repentant leader. Commit to obey the Lord, and see what He will do in your life. He is faithful to complete the good work He has begun in you (Phil. 1:6).
For more biblical teaching and resources from Dr. Charles Stanley, please visit www.intouch.org.
Click here to watch Dr. Charles Stanley & In Touch Ministries Video Online
and
click here to listen to Dr. Stanley at OnePlace.com.
FEATURED RESOURCE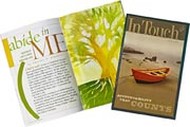 In Touch Magazine
Stories that Inspire, Teaching that Renews
If you like Dr. Charles Stanley's radio program, TV broadcast and books, then you'll love his free, award-winning monthly magazine. It's full of informative resources that will touch your heart and invigorate your faith. Every month, In Touch magazine brings readers daily devotionals from Dr. Stanley, in-depth Bible studies, inspiring articles and insightful teaching to help strengthen your family and your relationship with God. Click below to start your free subscription to In Touch magazine. 

Used with permission from In Touch Ministries, Inc. © 2009 All Rights Reserved.