In Touch Daily Devotional
by Dr. Charles Stanley
---
May 15, 2008 – The Nature of Strength –
Ephesians 6:10-13
Welcome to the In Touch Devotional.
The moment a person receives Christ as Savior, he or she enters a battle. The Enemy is determined to destroy believers' testimonies. But God has supplied a mighty weapon to those who serve Him… His Son's strength flowing through their life.
Christ's power is supreme. Satan, with all his demonic force, can't throw anything our way to match Jesus' supernatural strength. Even so, temptations and trials expose weaknesses when most would prefer to appear strong. That is one reason human nature rebels against hardship and tries to avoid it.
God wants Christian soldiers to be armed with the Savior's might so they can confront life's difficulties. 2 Corinthians 12 says he promises us strength only when we set down pride and accept that we are too weak for battle. And Jesus' power is available to every believer right now. It's a gift from the Commander so that His followers can endure conflicts victoriously.
The world encourages keeping up the appearance of handling one's own problems. So, Christian soldiers' marching orders probably seem quite strange to onlookers. But, arrogance does not bring blessing; rather, it causes confusion, distance from the Lord, and ultimately failure. If we want to be victorious, then we must not follow the worldly strategy of facing the Enemy alone.
Until our life is over or Jesus Christ returns, we are locked in a battle with Satan. But God has given us a powerful weapon. When we are totally dependent upon the Lord for His strength, we are filled with supernatural energy and endurance.
FEATURED RESOURCE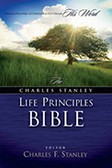 The Life Principles Bible
This Bible combines the wisdom of Scripture with the principles that guide Dr. Stanley's life and empower his ministry. Order your copy.
To see more resources from In Touch Ministries, please visit us at www.intouch.org or go directly to our bookstore at In Touch Ministries.