May 15, 2009
Telling It Like It Is
Psalms 126
People love inspiring stories. Biographies of  the down-and-out who make great use of a second chance tend to top best-seller lists. But few people have a life of such drama—most of us are quite ordinary. Sadly, some believers think that being a "regular Joe" makes their testimony unexciting and therefore less valuable. Nothing could be farther from the truth. What the Lord has done for any of us is just as extraordinary as what He did for the redeemed drug dealer, murderer, or prostitute.
A personal testimony is a way of expressing what God has done and is doing in one's life. It is a powerful tool for getting an unbeliever interested in spiritual matters. No matter how commonplace our words may sound compared to someone else's, the Lord will see to it that they impact the hearers who need them.
Let me give you an example. Suppose a six-year-old girl named Tina receives salvation. When she is 18, she will be able to tell her friends of God's greatness. She can explain that He makes the gospel clear to a child and yet reveals something new to her every day. When Tina is 80, she will have a lifetime of service opportunities to relate. Her testimony may not be exciting according to the world's criteria, but it is spiritual gold.
You have no idea how far-reaching your "ordinary" testimony can be. God says that His words will not return to Him without completing the work He sent them to do (Isa. 55:11). When believers share their faith, they are carrying His gospel to a needy world. And the story of Jesus' saving grace is always inspiring.
For more biblical teaching and resources from Dr. Charles Stanley, please visit www.intouch.org
and
click here to listen to Dr. Stanley at OnePlace.com.
FEATURED RESOURCE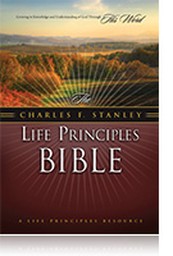 The NASB Life Principles Bible
You can now read the Scriptures in Dr. Stanley's favorite teaching translation -- the New American Standard -- while learning the 30 Life Principles that have guided him for more than 50 years. The new NASB Life Principles Bible will enhance your personal study time through explanation of key passages, plus helpful resources like "Answers to Life's Questions," concordance, maps, and much more. Available in leather and hardcover. 

Used with permission from In Touch Ministries, Inc. © 2009 All Rights Reserved.