May 16-17, 2009
When Our Faith Is Challenged
John 9:13-38
Believers who faithfully share their testimony are sometimes challenged. I do not write this to frighten or silence you. In fact, I encourage you to welcome questions, confrontations, and even persecution. These tests grow your faith and make you a stronger advocate for the Lord.
During college, I took part in some lively discussions—you might call them arguments—with fellows from my dorm. Most of those young men were unbelievers who questioned everything I believed. They sometimes even laughed at me. But I took advantage of their attacks. Back in my room, I'd pray and search the Scriptures for the answers I did not have while we spoke. With each verbal skirmish, my faith flourished.
A person does not need lots of biblical knowledge to talk about Jesus. He simply has to share what God has done in his life. Consider the blind man healed by Jesus in John 9. When the Pharisees interrogated him about Christ healing his blindness, he countered with the simple truth: "Well, here is an amazing thing, that you do not know where He is from, and yet He opened my eyes . . . If this man were not from God, He could do nothing" (vv. 30, 33). The blind man did not know exactly who Jesus was either, but he was absolutely certain who had sent Him to earth!
Courageously share the truth that you know. If challenged, never be afraid to say, "I don't know how to answer this question, but I'm going to find out." Then get in the Word, get on your knees, or get with other believers so you will be more prepared "to give an account of the hope that is in you" (1 Peter 3:15). 
For more biblical teaching and resources from Dr. Charles Stanley, please visit www.intouch.org
and
click here to listen to Dr. Stanley at OnePlace.com.
FEATURED RESOURCE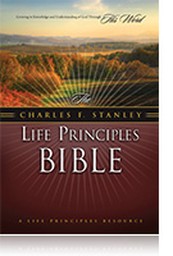 The NASB Life Principles Bible
You can now read the Scriptures in Dr. Stanley's favorite teaching translation -- the New American Standard -- while learning the 30 Life Principles that have guided him for more than 50 years. The new NASB Life Principles Bible will enhance your personal study time through explanation of key passages, plus helpful resources like "Answers to Life's Questions," concordance, maps, and much more. Available in leather and hardcover. 

Used with permission from In Touch Ministries, Inc. © 2009 All Rights Reserved.