May 20, 2009
The Holy Spirit's Role in Salvation 
John 16:7-13
Knowing He'd soon have to leave, Jesus gave His disciples this encouragement: God would send a Helper to indwell, guide, and empower them. In Acts 2:4, as promised, they were filled with the Holy Spirit.
Christians today enjoy the same blessing: the third member of the Trinity takes up residence within each person who trusts Jesus as Savior. But God's Spirit also has a role in the life of nonbelievers. Namely, He has a threefold task in drawing them to the Lord—He convicts the world of:
• Sin. His goal is not just to bring a guilty feeling, but to show the need for a Savior.
• Righteousness. In order to come to faith, one must understand that Jesus Christ lived a holy life but was crucified for our iniquity. Then He rose again, conquering death and offering redemption to all men.
• Judgment. Scripture teaches that after death, those who didn't trust Jesus as Savior will stand before God and be judged.
The Holy Spirit is crucial to salvation. For one thing, Satan has blinded unbelievers to the truth about God (2 Cor. 4:4), but the Spirit can open their understanding. What's more, the unsaved are dead in their sins (Eph. 2:1). Just as a corpse cannot breathe life into himself, a lost soul is unable to understand spiritual truth. Every salvation is clearly a supernatural act of God.
The Bible commands us to tell others about their need for Jesus. If we try to persuade in our own strength, we lack the power needed for this divine miracle. Genuine salvation occurs only when the Holy Spirit is involved. Therefore, when sharing the good news, always ask God to prepare hearts and to give you the right words.
For more biblical teaching and resources from Dr. Charles Stanley, please visit www.intouch.org
and
click here to listen to Dr. Stanley at OnePlace.com.
FEATURED RESOURCE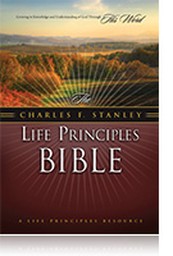 The NASB Life Principles Bible
You can now read the Scriptures in Dr. Stanley's favorite teaching translation -- the New American Standard -- while learning the 30 Life Principles that have guided him for more than 50 years. The new NASB Life Principles Bible will enhance your personal study time through explanation of key passages, plus helpful resources like "Answers to Life's Questions," concordance, maps, and much more. Available in leather and hardcover. 

Used with permission from In Touch Ministries, Inc. © 2009 All Rights Reserved.