May 22-23 
Unshakable Faith 
Daniel 1
Daniel had unshakable faith. His belief in the Lord sustained him when he was uprooted from his home, taken into captivity, and sent to a foreign country. It strengthened him as he served under four different kings and faced many challenges.
Knowing God and trusting Him are the two key elements of deep faith. Daniel, who was part of the Israelite nobility, apparently learned about the Lord from a young age. While he was in captivity, his words and actions demonstrated that he knew the Scriptures and wanted to obey God. When offered a meal that had been sacrificed to idols, he took a great risk by requesting other food. God caused the official to show favor to him (Dan. 1:5-9). Like Daniel, we are to spend our lives learning and carrying out what pleases our heavenly Father (Col. 1:10).
Not only did this young man know what the Scriptures said, but he also trusted God to do as He had promised. Every time Daniel took a stand for godliness, he was demonstrating his confidence in the Father. And his friends—Shadrach, Meshach, and Abednego—had unwavering belief as well. They did not know for sure that the Lord would rescue them from the fiery furnace, but they trusted that He would do what was right (Dan. 3:16-18).
Barriers to unshakable faith include pride (I won't admit I need God's help), arrogance (I know a better way—I don't have to ask God), and self-sufficiency (I can do it myself without His help). Which of these is keeping you from becoming a person of strong faith? Confess it and turn toward the Lord. 
For more biblical teaching and resources from Dr. Charles Stanley, please visit www.intouch.org.
Watch Online Videos of Dr. Charles Stanley and In Touch Ministries at LightSource.com
and
Listen to Dr. Charles Stanley Online Broadcasts at OnePlace.com.
FEATURED RESOURCE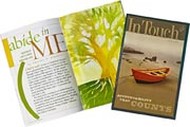 In Touch Magazine
Stories that Inspire, Teaching that Renews
If you like Dr. Charles Stanley's radio program, TV broadcast and books, then you'll love his free, award-winning monthly magazine. It's full of informative resources that will touch your heart and invigorate your faith. Every month, In Touch magazine brings readers daily devotionals from Dr. Stanley, in-depth Bible studies, inspiring articles and insightful teaching to help strengthen your family and your relationship with God. Click below to start your free subscription to In Touch magazine. 

Used with permission from In Touch Ministries, Inc. © 2009 All Rights Reserved.