May 4
Communion with Our Lord 
1 John 1
Genesis 1:27 teaches that God created us—male and female—in His image. As a result of Adam's rebellion, however, sin entered the hearts of his descendants and separated all of us from our Creator. With that act of disobedience, human nature became self-centered instead of focused on the Lord. The desire to spend time with God was replaced by a bent away from Him.
Knowing our dilemma—that we are enslaved by our "flesh" and unable to pay the penalty we owe—the heavenly Father sent His Son Jesus to stand in as our substitute. Because He is perfectly "holy, innocent, and undefiled" (Heb. 7:26), Christ alone qualified to carry our sins to the cross and pay our outstanding debt. When we receive Jesus' finished work on our behalf, we are acknowledging His Lordship over our lives. Then we are adopted into God's family and have fellowship with Him (1 Cor. 1:9).
Take a moment to reflect on Christ's "rescue mission." Jesus, the One without sin, chose to take on mankind's sins—past, present, and future—to save us from eternal separation from the Father. He willingly gave His life so we might be reconciled to God and live with Him forever. As we ponder this amazing demonstration of grace and love, our response should be a strong desire to fellowship with Him.
Child of God, you were designed to have sweet communion with your heavenly Father. Jesus died so that you and I might become part of His family. How strong is your need for fellowship with Him? Does it override the clamor of the day's events or get lost in the demands of daily living?
For more biblical teaching and resources from Dr. Charles Stanley, please visit www.intouch.org.
Click here to watch Dr. Charles Stanley & In Touch Ministries Video Online
and
click here to listen to Dr. Stanley at OnePlace.com.
FEATURED RESOURCE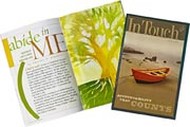 In Touch Magazine
Stories that Inspire, Teaching that Renews
If you like Dr. Charles Stanley's radio program, TV broadcast and books, then you'll love his free, award-winning monthly magazine. It's full of informative resources that will touch your heart and invigorate your faith. Every month, In Touch magazine brings readers daily devotionals from Dr. Stanley, in-depth Bible studies, inspiring articles and insightful teaching to help strengthen your family and your relationship with God. Click below to start your free subscription to In Touch magazine. 

Used with permission from In Touch Ministries, Inc. © 2009 All Rights Reserved.