In Touch Daily Devotional 
by Dr. Charles Stanley
---
November 1, 2006
Discovering Our Real Needs
          Grand, sweeping statements can be hard to take. We've all turned on the TV and heard confident claims such as, "Got a problem? God has the answer!" That can cause something in our spirit just tighten up.
          Whenever someone makes any kind of bold statement, we must consider the source. Who is making the claim? Does that person really understand my situation? If we are in the midst of a struggle, we may wonder, Is this a person who knows what pain feels like? Or we ask ourselves, Is this someone I can trust? So, when we read Philippians 4:19, "My God will supply all your needs according to His riches in glory in Christ Jesus," we have to stop and ask, Can I trust the writer? The answer, without a doubt, is yes.
          Paul was not always a bubbly, happy-go-lucky communicator. He was bold and brash, spreading truth whenever and wherever it was necessary. He also knew what it meant to be in need. In fact, he wrote the book of Philippians from an Ephesian jail where he was most likely chained to a prison guard. More importantly, Paul knew where to get his needs met. Even in this dark situation, not knowing when or if he would ever be freed from his chains, Paul reveals something amazing: his contentment. He trusted that God's hand was at work, no matter how the outward circumstances appeared.
          As you consider your present circumstances—your place in life and current needs—would you say you're content? Do you believe the Lord truly can and will meet your needs according to His glory?
 
FEATURED RESOURCE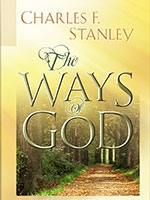 The Ways of God
from Dr. Charles Stanley
God's ways are always perfect, and following them leads to fulfillment and success. One of life's undeniable truths is that your choices will ultimately determine your future. While you can decide for yourself what career field to enter or who to marry, nothing compares with seeking God first and relying on the wonderful principles of His Word. In this series, Dr. Stanley teaches that as you serve God and seek His ways, you'll be blessed with peace, wisdom, and guidance for the journey ahead. Order here  now!
To see more resources from In Touch Ministries, please visit us at www.intouch.org  or go directly to our bookstore at In Touch Ministries.