In Touch Daily Devotional 
by Dr. Charles Stanley
---
November 10, 2006
A Kingdom-Focused Prayer Meeting
Jesus placed great emphasis on the believer's prayer life. He taught its importance by His words and through His actions.  At times His prayers were spoken publicly. Sometimes, He withdrew from the crowds to be alone with our heavenly Father. Either way, He demonstrated the priority He placed on talking with God.
Jesus also spoke of the power of united prayer. (Matthew 18:19-20). If our church gatherings and small groups were to offer heavenly-minded petitions on a consistent basis, what would our prayer meetings be like? We would focus more closely on God and His kingdom, and less on physical needs. More of us would praise the Lord for who He is, express godly sorrow for our sinful ways (2 Corinthians ), and speak of our gratitude for all He has done.
Our voices would be lifted in praise as we witnessed souls yielding to God, pride giving way to humility, and insensitivity being replaced by loving service.  We'd rejoice in our glimpses of God's work in and through our local churches. And, we would be fervently pleading to the Lord for the salvation of the lost and the spiritual growth of believers.
How excited we would be to see God answer our kingdom-focused prayers. Some of us would find it easier to testify about our Savior, others would be filled with His peace when facing trials, and still others would have the strength to stand firm and not compromise. Imagine our church filled to overflowing and becoming the "house of prayer" Jesus said we are meant to be (Matthew 21:13).
 
FEATURED RESOURCE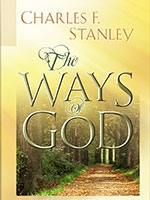 The Ways of God
from Dr. Charles Stanley
God's ways are always perfect, and following them leads to fulfillment and success. One of life's undeniable truths is that your choices will ultimately determine your future. While you can decide for yourself what career field to enter or who to marry, nothing compares with seeking God first and relying on the wonderful principles of His Word. In this series, Dr. Stanley teaches that as you serve God and seek His ways, you'll be blessed with peace, wisdom, and guidance for the journey ahead. Order here  now!
To see more resources from In Touch Ministries, please visit us at www.intouch.org  or go directly to our bookstore at In Touch Ministries.