In Touch Daily Devotional 
by Dr. Charles Stanley
---
November 11, 2006
When Our Needs Are Our Fault
We saw earlier this week that some needs are universal—common to all people. Today, let's focus on something else: those times of great need when we are to blame.
Consider the Prodigal Son. This young man seemed to have everything he could possibly want. He lived in a beautiful home, had plenty of food, and was from a wealthy and popular family. But, he unwisely set his eye on the one thing he didn't have: prestige. He wanted to be his own man and get out from shadow of both his father and, especially, his older brother. Despite having the finest things in life, he wanted out.
The result? This young man had a wonderful time, but only for a short while. He desired the joys that went along with success. But, he paid absolutely no attention to the responsibilities wealth required. As a result, he drove himself into a world of pain and need unlike any he had ever experienced. And, he had no one to blame but himself. Hurting, hungry, and alone, the Prodigal knew full well how and where his needs would be met. Then, accepting the blame, he turned his eye toward his father and began the long journey home.
When we are hurting, we often try to find someone else to blame. It can be heartbreaking to discover the fault is actually our own. In those moments, can you, like the Prodigal Son, swallow your pride and turn back toward your Father? If you do, you'll find He's already running out to meet you, ready to supply your needs again.
 
FEATURED RESOURCE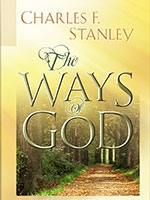 The Ways of God
from Dr. Charles Stanley
God's ways are always perfect, and following them leads to fulfillment and success. One of life's undeniable truths is that your choices will ultimately determine your future. While you can decide for yourself what career field to enter or who to marry, nothing compares with seeking God first and relying on the wonderful principles of His Word. In this series, Dr. Stanley teaches that as you serve God and seek His ways, you'll be blessed with peace, wisdom, and guidance for the journey ahead. Order here  now!
To see more resources from In Touch Ministries, please visit us at www.intouch.org  or go directly to our bookstore at In Touch Ministries.