In Touch Daily Devotional 
by Dr. Charles Stanley
---
November 14, 2006
God's Special People
            Sometimes, even believers have difficulty remembering their purpose in life. In the busyness of our day-to-day lives, it's easy to forget how wonderfully and purposely designed we are in the eyes of our Creator.  Yet, 1 Peter 2:9-10 brings our focus back to God, showing us His design for our lives.
          First, we are God's chosen race. We don't have to fight for a place in the house of the Lord. Instead, He chose us.  The God of the universe actively sought us because He wanted an unending relationship with us.
          Second, we are members of a royal priesthood. In Old Testament days a king could not be a priest, and a priest could not be a king. The two offices were separate and distinct. But, in Christ, God has called every believer into a new category.  We are now sons and daughters of the King, and we have free, intimate access to almighty God.  We are royal priests.
          Third, we are a holy nation. "Holy" simply means "set apart." In other words, we have been marked as God's children by His Holy Spirit, who placed an eternal seal upon our souls.
          Fourth, we are God's own possession. You are so valuable to the Heavenly Father that He purchased your eternal salvation at great cost: the life of His only Son. (1 Corinthians 6:20) 
          Nothing about us takes our all-knowing, all-powerful, ever-present God by surprise. He knows you completely because He made you to be His representative in the world. Does your life reflect your God-given position?
 
FEATURED RESOURCE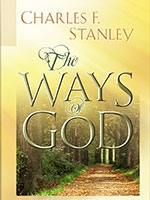 The Ways of God
from Dr. Charles Stanley
God's ways are always perfect, and following them leads to fulfillment and success. One of life's undeniable truths is that your choices will ultimately determine your future. While you can decide for yourself what career field to enter or who to marry, nothing compares with seeking God first and relying on the wonderful principles of His Word. In this series, Dr. Stanley teaches that as you serve God and seek His ways, you'll be blessed with peace, wisdom, and guidance for the journey ahead. Order here  now!
To see more resources from In Touch Ministries, please visit us at www.intouch.org  or go directly to our bookstore at In Touch Ministries.