November 16 
The Spirit and Our Walk 
Galatians 5:16-26
Have you ever felt like quitting the Christian life? Perhaps you have tried to be the kind of person God wants you to be. You've established a consistent quiet time with the Lord, reading the Bible and praying. But still you seem to have one struggle after another. So you think that you might be missing something—or that maybe this life isn't all it's cracked up to be. Let this be a comfort: many believers, myself included, have toiled through a period of defeat.
The key to living a life of joy, peace, and victory is found in Galatians 5. Notice that I did not say a life without conflict or one free of temptation, trial, or heartache. Those are part of the human condition. But we can triumph through the power of the Holy Spirit.
In fact, today's passage makes clear how vital it is for believers to live a Spirit-filled life. When a person trusts Jesus Christ as Savior, he or she is saved and steps from darkness into light. But believers do not then just stand around. As followers of Christ, we fall in step with the Holy Spirit, who teaches us to stay on our feet when we are wobbly, to move uphill without tiring, and to stand again after we have fallen. We rely upon Him as our strength, guide, and comforter.
Does getting through a defeat feel more like crawling than walking? Thankfully, the Holy Spirit is right with you, and He has all the encouragement and power necessary to get you on your feet again. The Christian life can't be lived alone—rely upon God's Spirit to escort you each step of the way.
For more biblical teaching and resources from Dr. Charles Stanley, please visit www.intouch.org.
Click here to watch Dr. Charles Stanley & In Touch Ministries Video Online
and
click here to listen to Dr. Stanley at OnePlace.com.
FEATURED RESOURCE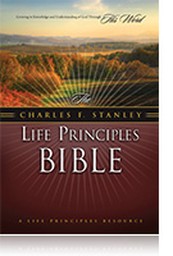 The NASB Life Principles Bible
You can now read the Scriptures in Dr. Stanley's favorite teaching translation -- the New American Standard -- while learning the 30 Life Principles that have guided him for more than 50 years. The new NASB Life Principles Bible will enhance your personal study time through explanation of key passages, plus helpful resources like "Answers to Life's Questions," concordance, maps, and much more. Available in leather and hardcover. 

Used with permission from In Touch Ministries, Inc. © 2009 All Rights Reserved.