Monday November 17
Getting Ready 
2 Corinthians 1:8-11
Yesterday we learned two ways to prepare for life's difficulties: biblical thinking and balanced judgment. First Peter 1 has further instructions, which include . . .
Fixing our hope on Jesus (v. 13). No matter how hard the circumstances, life has purpose and meaning in Christ. The Savior has promised always to be with us and to keep watch as a shepherd cares for his sheep (Matt. 28:20; John 10:14). Through the Holy Spirit's transforming power, troubled times can become opportunities to learn more about God's faithfulness, draw on His strength, and experience personal growth.
Resisting our former lifestyle (v. 14). When troubles come, it is tempting to revert to ungodly habits or take up new ones. In these seasons of life, Satan will encourage us to pursue any path that leads away from the Lord. We need to remember that we are new creations whose lifestyles are to match our position as God's children. That old behavior does not fit us anymore.
Making holiness our goal (v. 15). Being "holy," or "set apart," begins with giving up control over our life to the Holy Spirit. As we submit to Him, He will begin to express the life of Christ through us. By learning what pleases God and acting accordingly, we cooperate with His efforts to conform us to the Son's image.
While struggles are part of everyday life, we do not have to be overcome by them. Think about a specific step you can take to start carrying out these instructions today.
FEATURED RESOURCE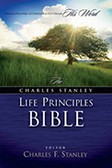 The Life Principles Bible
This Bible combines the wisdom of Scripture with the principles that guide Dr. Charles Stanley's life and empower his ministry. Order your copy.
To see more resources from In Touch Ministries, please visit us at www.intouch.org or go directly to our bookstore at In Touch Ministries.
Used with permission from In Touch Ministries, Inc. © 2008 All Rights Reserved.