In Touch Daily Devotional 
by Dr. Charles Stanley
---
November 2, 2006
Lifting the Level of Our Prayers
Ever wonder why the disciples asked the Lord to teach them to pray? Perhaps they recognized that His prayers were on a different level than the ones they usually heard. The apostle Paul had rich communion with God through a strong and effective devotional life. Two characteristics that distinguished his prayers are an active awareness of God and an ability to rejoice in others' spiritual growth.
Paul was aware of the Lord's presence and work, and he acknowledged both often. To the believers at Philippi, he described God as the One who would complete the beneficial work He began in them. (Philippians 1:6) To the Ephesians, he spoke of God as the One "who has blessed us with every spiritual blessing in the heavenly places in Christ" (Ephesians 1:3).
Many of Paul's prayers were prompted by the spiritual growth and health of the churches. Delighted to hear of the Ephesians' growing faith and the Colossians' love for others, he responded by praising God. (Colossians 1:3-4) The Philippians' partnership in the Gospel caused him to pray with joy. (Philippians 1:4-5) The Thessalonians' work and steadfast hope gave him even more reasons for prayer. (1 Thessalonians 1:3)
Intimate knowledge of God and love for the churches fueled Paul's devotional life. Are you longing for something more in your times of prayer? Follow Paul's example and spend time meditating about who God is, what He has done, and the spiritual growth He has brought forth in your church. Then, lift up specific praises to Him for these things.
 
FEATURED RESOURCE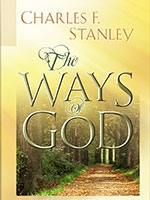 The Ways of God
from Dr. Charles Stanley
God's ways are always perfect, and following them leads to fulfillment and success. One of life's undeniable truths is that your choices will ultimately determine your future. While you can decide for yourself what career field to enter or who to marry, nothing compares with seeking God first and relying on the wonderful principles of His Word. In this series, Dr. Stanley teaches that as you serve God and seek His ways, you'll be blessed with peace, wisdom, and guidance for the journey ahead. Order here  now!
To see more resources from In Touch Ministries, please visit us at www.intouch.org  or go directly to our bookstore at In Touch Ministries.