In Touch Daily Devotional 
by Dr. Charles Stanley
---
November 20, 2006
Praising in Troubled Times
          Praise is a celebration of the Lord. But when trouble strikes, celebration seems out of place. The life of faith, though, is frequently contrary to normal human understanding. Jehoshaphat faced his difficulty by applauding God's past work and faithfulness, and by recalling His promises.  When we respond in a similar way, we, too, will be able to proceed with courage.
          Self-pity is the natural human response to troubled times, and rehashing the details and repercussions of our situation only makes it seem more threatening. Praise focuses our attention on God instead. If we are looking to Him for aid, then we can't help but recognize His sovereignty. Every trial comes through His permissive will, which means He has complete control.  Whatever His reasons for allowing trouble into our life, He is faithful to see us through.
          Recalling the Lord's gracious acts and focusing on His sovereignty in everyday life reminds us of our dependence upon Him. (vv. 7-12) Jehoshaphat expected God to intervene because recorded history showed His willingness to rescue His people. This recognition of Israel's helplessness unleashed God's full power. When believers try to solve problems independently of the Lord, He cannot work freely. 
          Our praise is limited only by our knowledge.  The more we read and study the Bible, the better we understand God's many attributes and assurances. Then, when difficulty comes, we can celebrate His past faithfulness while awaiting His promised help.
 
FEATURED RESOURCE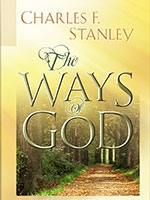 The Ways of God
from Dr. Charles Stanley
God's ways are always perfect, and following them leads to fulfillment and success. One of life's undeniable truths is that your choices will ultimately determine your future. While you can decide for yourself what career field to enter or who to marry, nothing compares with seeking God first and relying on the wonderful principles of His Word. In this series, Dr. Stanley teaches that as you serve God and seek His ways, you'll be blessed with peace, wisdom, and guidance for the journey ahead. Order here  now!
To see more resources from In Touch Ministries, please visit us at www.intouch.org  or go directly to our bookstore at In Touch Ministries.