November 20 
Enslavement to Sin 
John 8:31-36
We live in a land where men and women have fought and even given their lives to protect liberty, yet ironically, masses of our citizens are in bondage. Of course, these people are not bound by literal chains, but their hearts are enslaved by sin. Today's passage explains that when we continually commit wrongs, we're imprisoned by them. Let's explore how this happens.
The process starts off subtly with a desire for something. We might give in a little, and the yearning starts growing stronger.  At first, our conscience warns us, and we might confess the sin. But we give in again and begin to justify our actions. In time, if this cycle continues, the sting of conscience gradually weakens until we no longer feel it. At that point, we are enslaved.
The sin can be as obvious as pornography or substance abuse. But it can also be more difficult to recognize, like ungodly priorities involving a drive for success, prosperity, and power. Even a hunger to strengthen a ministry can be sinful. There is a difference between being motivated and led by the Holy Spirit and being pushed by our own insatiable desire.
Bondage to sin has consequences. It damages emotions, divides the mind, instills fear, guilt and insecurity, and creates hopeless addiction to its power. 
Praise God—Jesus can set us free. The first step to liberty is recognition of our current captivity. Does sin have a powerful hold on you? Ask almighty God to reveal wrong attitudes, actions, and priorities. These are not always obvious, but He lovingly desires to show you and break you free.
For more biblical teaching and resources from Dr. Charles Stanley, please visit www.intouch.org.
Click here to watch Dr. Charles Stanley & In Touch Ministries Video Online
and
click here to listen to Dr. Stanley at OnePlace.com.
FEATURED RESOURCE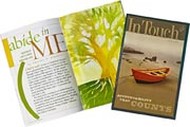 In Touch Magazine
Stories that Inspire, Teaching that Renews
If you like Dr. Charles Stanley's radio program, TV broadcast and books, then you'll love his free, award-winning monthly magazine. It's full of informative resources that will touch your heart and invigorate your faith. Every month, In Touch magazine brings readers daily devotionals from Dr. Stanley, in-depth Bible studies, inspiring articles and insightful teaching to help strengthen your family and your relationship with God. Click below to start your free subscription to In Touch magazine. 

Used with permission from In Touch Ministries, Inc. © 2009 All Rights Reserved.